8.2. Relationship between Modulus of Elasticity E and Bulk Modulus K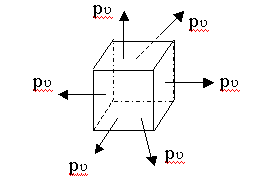 Consider a cube element subjected to volumetric tensile stress p? in X,Y and Z directions. Stress in each direction is equal to p?. ie px = py = pz =p?
Consider strains induced in X-direction by these stresses. px induces tensile strain , while py and pz induces compressive strains. Therefore,
ex = px/E – 1/m[py/E + pz/E] = p?/E[1-2/m]
due to the perfect symmetry in geometry and stresses
ey = p?/E[1-2/m]
ez = p?/E[1-2/m]
K = p ? / e ? =p ?/(ex+ey+ez) = p?/[3p?/E(1-2/m)]
ie E = 3K(1-2/m ) is the required relationship.